Welcome to the 2019-20 Season
WILDERNESS ENTERTAINMENT SERIES
The Wilderness Entertainment Series  has been providing Red Lake and its surrounding area with LIVE quality entertainment since 2013.  WES is a not-for-profit, community based organization comprised of volunteers supported by our community and government partners as well as sponsorship from local businesses and individuals.  Our generous sponsors help us to achieve our goals of bringing affordable, quality entertainment to the people of the Red Lake District.
For the 2019-20 season WES is proud to present seven great performances from some of Canada's best musicians, actors and dancers including Canadian Tenor, Ken Lavigne, the Elmer Iseler Singers, the Royal Manitoba Theatre Centre, Doc Walker, Lion Bear Fox, the Canadian Contemporary Dance Theatre and The LYNNeS.
With music, dance and theatre there is truly something for everyone in the 2019-20 Wilderness Entertainment Series….Enjoy!
7 GREAT SHOWS IN 2019-20
Wednesday, October 9, 2019 ***VENUE CHANGE – NOW COCHENOUR HALL***
KEN LAVIGNE

Songs performed on Ken Lavigne's Show – 3 Knights with a Tenor include music by Sir Andrew Lloyd Webber, Sir Paul McCartney and Sir Elton John (The Three Kights)  as well as original songs written by Ken Lavigne. Ensemble Includes: Violin, Bass, Piano, Drums.
Wednesday, November 6, 2019 AT RED LAKE MADSEN PUBLIC SCHOOL
ELMER ISELER SINGERS
This 20-voice fully-professional choral ensemble, founded by the late Dr. Elmer Iseler in 1979, has built an enviable reputation throughout Canada, the United States and internationally through concerts, broadcasts and recordings — performing repertoire that spans 500 years, with a focus on Canadian composers.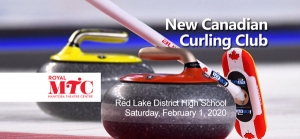 Saturday, February 1, 2020 AT THE RED LAKE DISTRICT HIGH SCHOOL
ROYAL MTC
The town is so small it only has one Tim Hortons. But community-minded Marlene is determined to "diversify" the curling club. She enlists four newcomers to learn the game but when she breaks her hip, it's up to her politically incorrect ex-husband Stuart to step in. Things start off badly and get worse. Stuart doesn't think the new Canadians can hack it and they have bigger worries than mastering this bizarre sport.
Saturday, February 22, 2020 AT RED LAKE LEGION | 19+ EVENT
DOC WALKER
With over 20 Top 10 singles in total, Doc Walker is one of the most recognized Canadian country acts of the past two decades. The group has received multiple Canadian Country Music Awards, including Fans' Choice, Group or Duo of the Year, CMT Video of the Year, Single of the Year, and Country Music Program or Special of the Year. In addition, Doc Walker has been nominated for several JUNO Awards for Country Album of the Year, including a win in 2009 for the album Beautiful Life.
Monday March 9, 2020 AT THE RED LAKE LEGION | 19+ EVENT

LION BEAR FOX
Harken the era of the man band! Three huge voices join in mighty harmony to tell the truth through compelling story, honest narrative and unbridled passion. Performing gripping dynamic songs with a genuine sincerity rarely heard this side of the 2000's. A Lion Bear Fox show is a collection of intimate moments shared through songs about honest hope, sorrow, love and joy. Stompy blues rock.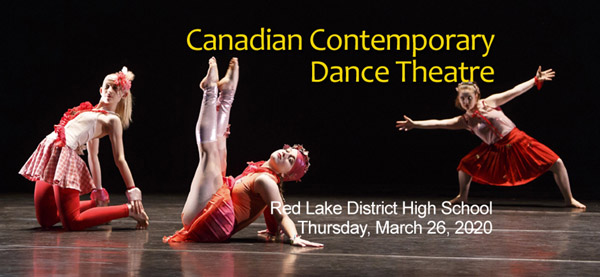 Thursday, March 26, 2020 AT RED LAKE DISTRICT HIGH SCHOOL
CANADIAN CONTEMPORARY DANCE THEATRE
TEASING GRAVITY is a thrilling adventure in movement featuring contemporary dances by a selection of Canada's fastest rising choreographers. From the hyper-kinetic street dance of Gadfly's Apolonia Velasquez and the seriously funny pop rock send-ups by Rock Bottom Movement's Alyssa Martin to the exuberant physicality of Human Body Expression's Hanna Kiel and the power and precision of ArchDance's Jennifer Archibald, TEASING GRAVITY will leave audiences breathless with the art form's endless possibilities.
perfect alchemy  The Scotsman
simply breathtaking  Dance International
a national treasure…among Toronto's top dance companies   The Globe and Mail
Wednesday, April 8, 2020 AT THE COCHENOUR HALL | +19 EVENT
THE LYNNeS
The LYNNeS  are Juno award winning songwriter Lynn Miles and award-winning songwriter Lynne Hanson. The two Canadian heartbreak poets are multi-instrumentalists (piano, acoustic, electric guitar, mandolin), fusing tight vocal harmonies with hauntingly gritty lyrics.  Individually they have toured North America and Europe, and their debut album Heartbreak Song For The Radio was released in 2018.  The album has been nominated for 5 Canadian Folk Music Awards (Producer, English Songwriter, Ensemble, Vocal Group).